My family broadband connection type is DHCP, when I connect one nova to cable modem, nova cannot detect DHCP connection type, the light keeps solid red, what should I do?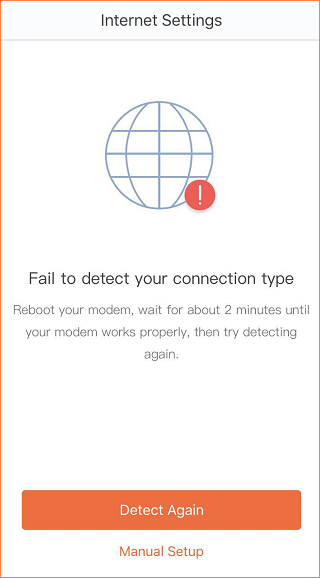 1.
Power off and power on modem and nova both, and then connect nova to modem with ethernet cable, when light turn to blink blue, phone connect to nova WI-FI signal and reconfigure nova through Tenda Wi-Fi APP;
2.
If you powered off and restarted both modem and nova, cannot detect DHCP connection type still, please follow below steps:
①
If there is an old wireless router in your home, please connect wireless router to cable modem, and power off and restarted modem to make wireless router can access internet.
②
Connect wan port (

) of nova to Lan port of old wireless router and configure Tenda Wi-Fi APP to make nova can access internet.
③
Open Tenda Wi-Fi APP, Click "Settings"-----"Firmware Upgrade", and check whether there is a new firmware version for upgrading, if have, please upgrade it to the latest firmware version.
④
After the upgrade completed, connect nova to cable modem again, and power off modem and restart, open Tenda Wi-Fi APP and reconfigure, it will detect connection type and access internet.
0Çok iyi 75Makale Görünümleri