What it does
With advanced HomePlug AV2 technology, PA6 provides you with stable, high-speed data transfer rates of up to 1000Mbps on the powerline and 300Mbps wireless transmission rate, and integration two Gigabit Ethernet ports for wired devices bring you ideal for HD Video Streaming, large file transfers and other high-bandwidth application.

Compliant with HomePlug AV2 and IEEE 1901 standard, downward compatible with HomePlugAV standard.

Adopts latest Broadcom chip to provide transmission rate up to 1000Mbps, making it a great choice to build multimedia entertainment network easily.

Easily extend Wi-Fi range at a push of Wi-Fi clone button.

Considerate Smart Wi-Fi Schedule can turn on/off Wi-Fi automatically to create low-power consumption and smart E-life for your whole families.

Encryption at a push of button on paired devices.
Easy to use
Easy Wifi cloning,just press "WPS" button on router and "Wifi" button on PA6 to finish Wifi cloning; Easy pairing,just press "Pair" button on each PLC to finish pairing.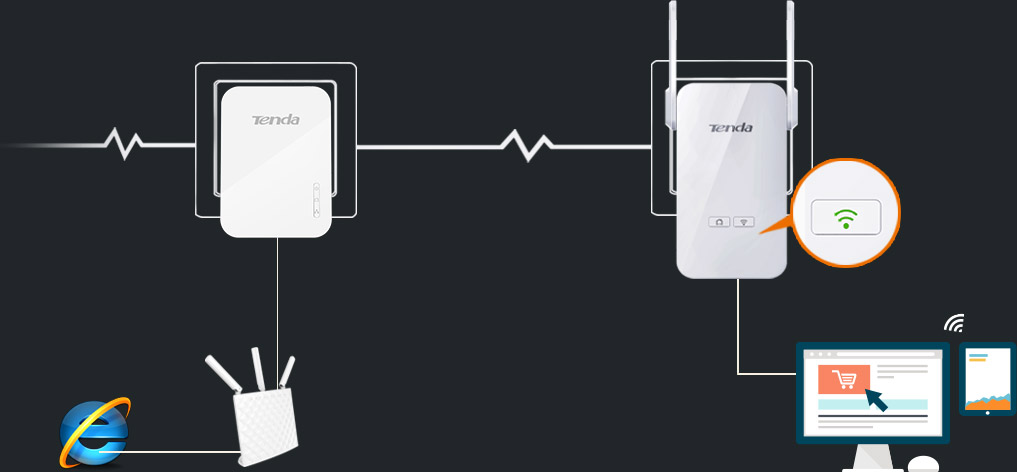 Plug one Internet connected powerline adapter into a power outlet.
Plug PA6 into a power outlet and connect networked devices via an Ethernet cable, then completed!