This documentapplies to users who need to change wireless SSID and security key.
Model:Tenda N301/F3/FH456 Problemclassification: wireless setting
Step 1: Open a browseron your computer, input 192.168.0.1in address bar, then press enter button onyour keyboard, enter login password, click "Login".

Step 2: Click "Wireless",to manage your wireless network. The reference as below: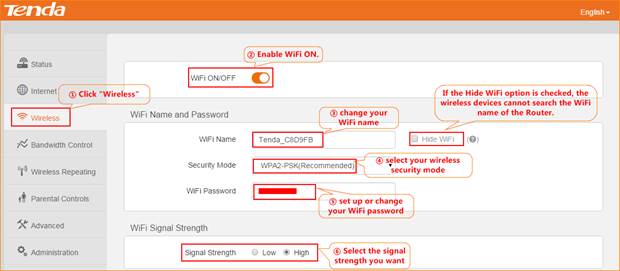 WiFi ON/OFF Button
The WiFi ON/OFFbutton allows you to turn on/off your WiFi. It is enabled by default.
Log in to theRouter's User Interface, click Wireless. Click WiFi ON/OFF buttonto enable/disable your WiFi, and click OK on the bottom of the page toactivate the settings.
Changeyour WiFi name/password
Thispart allows you to change your WiFi name, select your wireless security mode,and set up or change your WiFi password. Remember to click OK on thebottom of the page to save the settings you configure.
HideWiFi: If the Hide WiFi option ischecked, the wireless devices cannot search the WiFi name of the Router. To connectto your Router's WiFi, you need know the WiFi name in advance and enter theWiFi name on each wireless client manually.
SecurityMode: The router offers three security modes:WPA-PSK, WPA2-PSK (Recommended), and WPA/WPA2-PSK Mixed. You can select oneaccording to your needs. Or you can select None to share your WiFi withothers without requiring a password. There is no WiFi password and securitymode set by default. But if you set up a WiFi password in Quick Setup Wizard,the security mode will be changed to WPA2-PSK (Recommended).
WiFiSignal Strength
The Router offerstwo levels of signal strength: low and high (default). Select Low if itcan satisfy you. Standard offers the widest coverage range while Highhas strong capability of penetrating wall. Select one from them according toyour needs. Remember to click OK on the bottom of the page to save thesettings you configure.