TEF1026F
Dedicated for Surveillance and SMB
Gigabit SFP Uplink/6kV Integrated Lightning Protection/3 Modes

Gigabit SFP Slots up to 2000 Mbps Full-wire Speed
TEF1026F provides 24 10/100 Mbps auto-negotiation RJ45 ports, 2 gigabit SFP slots and offers a data rate in full duplex of as high as 2000 Mbps. Working with Tenda SFP modules TEG311SM, the switch supports a maximum transmission distance of as high as 20 km. In addition, a large capacity cache is equipped in the switch and all ports support wire-speed forwarding, ensuring fast transmission of large files, smooth playback of videos and stable connection for 7*24 hours.
Excellent Lightning Protection
With professional lightning protection circuit, all ports and power supply module feature 6 kV lightning protection, greatly protecting the switch from being damaged by thunder storm.
Cascade with 3 Devices Can Support IP Surveillance Preject of 72 Cameras
Three devices are cascaded through 25 and 26 Gigabit ports, which can support up to 72 channels of 500W camera access and ensure stable video transmission without jamming. If both devices are connected to NVR, the local watching of surveillance video can be realized. The equipment of surveillance room can also be connected to NVR, and the other edge device can be connected to router to connect external network.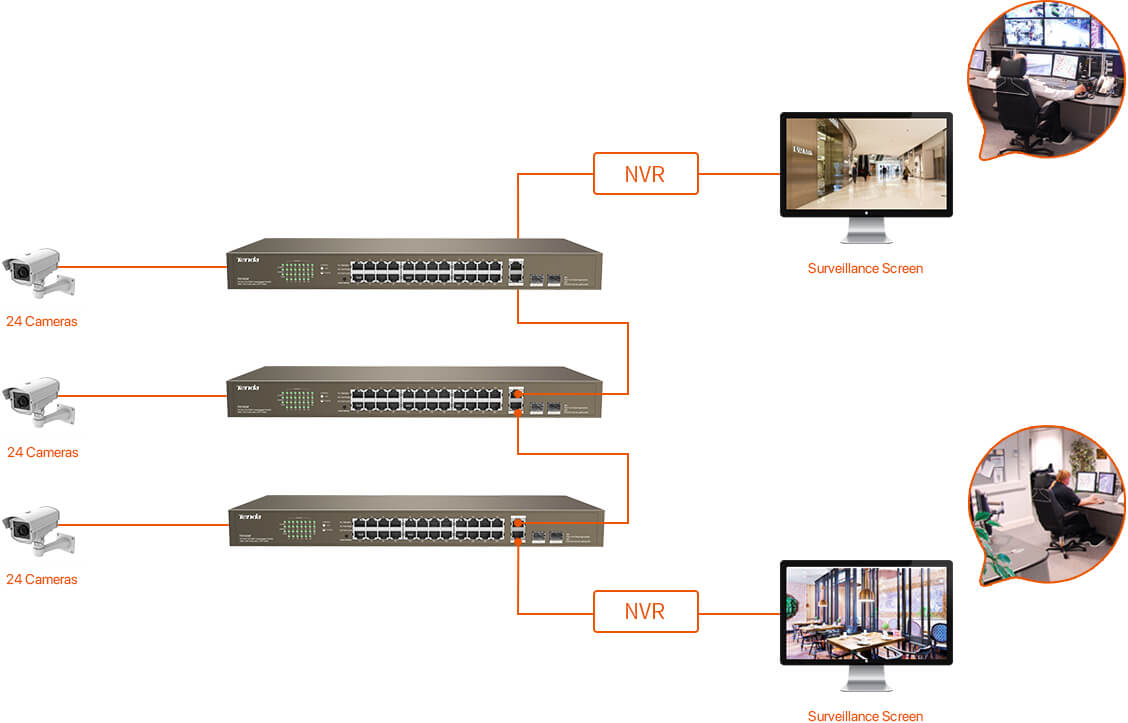 3 Modes for Different Networks
Standard mode, Port-based priority mode and Port-based VLAN mode make TEF1026F can deal with different networks, Special for Small & Medium-sized IP Surveillance and Wi-Fi Coverage Projects

Mode 1 Standard Mode
In that mode, all ports can communicate with each other, but the switch could not be managed through web UI.
Mode 2 Port-based Priority Mode
In that mode, ports 1 to 8 have higher priority than other ports, and all ports can communicate with each other. When the switch is connected to multiple IP cameras, you are recommended to use this mode for better smooth transmission, and connect the key IP cameras to the ports with higher priority, connect the two uplink ports (ports 25 and 26) to uplink devices (such as NVR or router).

Mode 3 Port-based VLAN Mode
In that mode, ports 1 to 24 can communicate with uplink ports (ports 25 and 26) but cannot communicate with each other. You can use this mode to isolate DHCP broadcast and eliminate broadcast storm.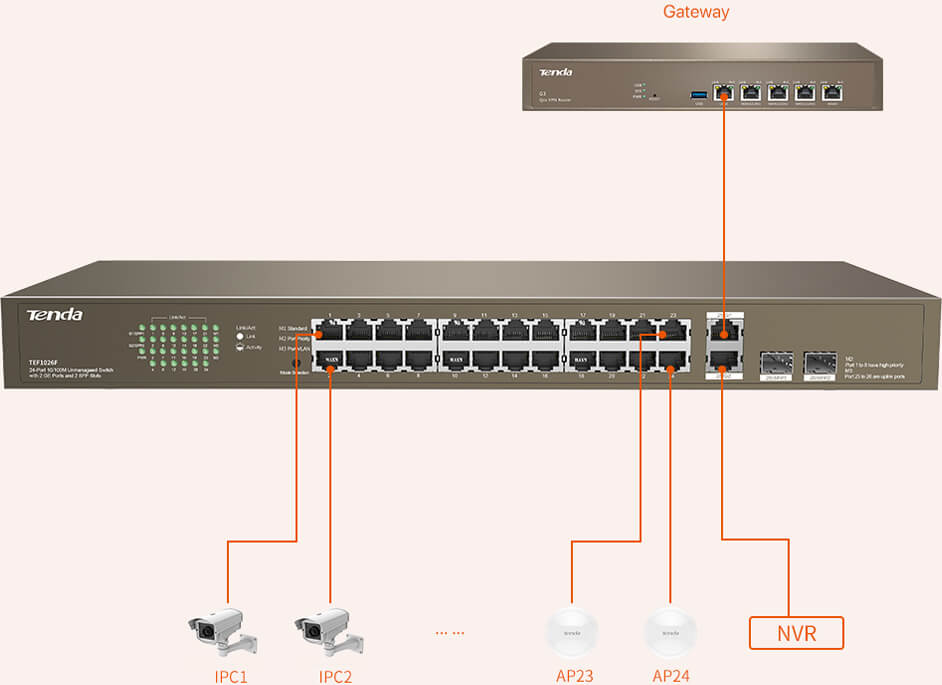 Other Function Fanless Silent Design All-steel & Three-sided
Through Hole Design 19 Inches Desktop & Rackmount Design Plug and Play