W303R-How to configure DDNS function?
Product line: Wireless Question category:Function configurations
Q:Why do we need to configure the DDNS?
A:If your Internet connection Type is PPPoE or Dynamic IP etc, the WAN IP Address will change every time after you set the router. In order to access the hosting website, FTP server in the LAN of the router at any time anywhere, we need bind a domain name with dynamic WAN IP address. Then you can access the servers with domain name. You can achieve this by setting DDNS.
Steps are as following:
1. Login the management page of the router. Click Advanced settings in the top right corner.
2. Then please select System ToolsàDDNS on the top menu.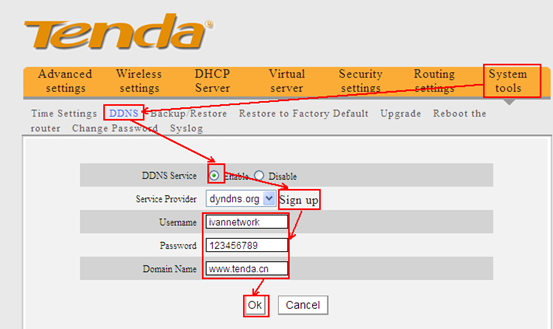 (1) Tick the Enable to enable the DDNS service.
(2) Select one Service Provider from the drop-down menu and press Sign up for registration. After the registration, you will get the User Name and Password and Domain Name information.
(3) Type in the user name the same as the registration name.
(4) Type in the password you set when set the ddns registration.
(5) Type in the domain name.
3. Click Apply to save the settings.
After the settings, you can access hosting website, FTP server with domain name instead of WAN IP address.
For example: ftp://www.tenda.com.cn not ftp://WAN IP